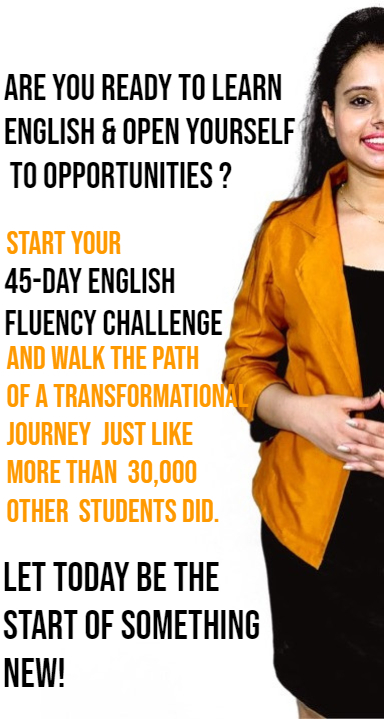 If you have already paid for the course please check your registered email id for login credentials.
If you have any query you can mail us your concern on contactus@oceanenglishacademy.com
Buy 4 Modules
at Just Rs. 899
Modern Grammar + Readymade English sentences + Fluency Builder + 45-day Fluency Challenge
Mastering Grammar and Structures​
Learn and understand the target grammar structures and frame millions of correct sentences without any confusion by the end of your training.
Speak English clearly and confidently! Learn imitation technique to reduce your accent and pronunciation problems quickly. It will also make listening to native speakers easier
Readymade English Sentence
Feed your brain the most common English sentences, patterns, phrases and expressions to hold real life English conversations.
English Fluency Challenges
Most courses and youtube videos only teach you about English. They don't help you speak, practice, and get fluent! That's why this challenge is different.

Read More

This challenge will give you tasks that MOTIVATE you to communicate and we will review your videos and audios to share your performance record. 45 challenges – 45-days!
Buy all 4 Modules at just Rs. 899/-
Learn and practice the grammar necessary to sound natural and avoid mistakes
Learn extremely useful expressions and readymade English expressions (with examples)Master exercises to improve your habits and ability to think in English
Build your English Speaking skills – Improve your Speaking Voice
Improve your English Listening skills – listen to a native speaker
Develop your English Vocabulary participating through online activities and creating your own videos.
Learn how to use English in advanced situations, like business negotiation and business meetings.
Daily dose of motivation to keep going.
Get

regular feedback

on your improvement & get a safe place to practice with like minded people


who have also enrolled in the course.
Get

regular feedback

on your improvement & get a safe place to practice with like minded people


who have also enrolled in the course.
Practice your English Speaking Skills

with confidence & without any fear of being judged in our private community on Facebook & Telegram with


Lifetime Access

!
ENGLISH SPEAKING NOW IN YOUR HAND AT YOUR MOVE!!
Attend live sessions with a dedicated expert trainer in spoken English and IELTS on your phone along with study sheets and audio lessons. The trainer will call you at a convenient time as decided by you.

The trainer will help you with extensive English Speaking Practice and give you a comprehensive feedback with corrections to be implemented in terms of grammar, vocabulary and pronunciation.

Meet your English  communication coach now!
Vidushi Kaushik
Founder & CEO
at Ocean English Academy
Ms. Vidushi Kaushik Chauhan is one of the plausible speakers in public speaking. She started her career as a novice to discover new avenues in the field of language training. Through vigorous research she understood the key points essential for mastering a language and thoroughly worked on them to design a course that would enable people who are weak in English communication skills to overcome their fear and be confident in communicating in English strongly.
"Vidushi speaks"
I fell in love with the English language back in 2008 and my passion for it inspired me to discover effortless methods to master this language. For over 8 years, I've trained innumerable students to take their English language skills to higher levels and the journey has been quite nostalgic. When I look down the memory lane, I can still remember how I started training my first student without any monetary return and how that one student multiplied into thousands over the years and eventually how Ocean English Academy was formed. And, now I am on a mission to touch millions of people's lives. it doesn't matter whether you come from English or Hindi medium school. If you are dedicated and persistent I can help you master Spoken English quickly so you could climb the new peaks of success in your career. Good English Communication skills can open the door to success for many people So I developed a brain-based system of teaching English that produced results quickly and effectively. On your journey of this 45-day English Fluency Challenge, I wish to only teach you REAL LIFE things that are useful, and that we use TODAY – no outdated old school grammar textbooks. I like to keep my lessons practical by teaching essential grammar alongside useful phrases. Teaching is one of those great professions that allow you to learn. While I teach students English, they teach me about their cultures, their lives, and different ways to see the world. It is a privilege to teach and I am thankful to all of the students over the years who have shared their stories, interests, and dreams so beautifully with me."
Click to attend physical classes in Gurgaon 👉🏻